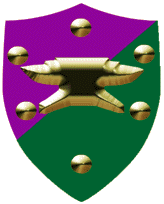 Welcome to
Waldryk's Arms & Armor
It is the goal of this Armory to provide some of the best made SCA-spec armor in the Knowne World at the best prices anywhere.
All armor produced is as close to reproduction as possible without deviating from the standards of safety required on the battlefield. Surf the World Wide Web and compare Waldryk's to any other Armory on the Internet. You won't find a better value in armor anywhere else. Waldryk's prices for stainless steel beat what others are charging for carbon steel, and stainless won't rust!
Period re-enactment groups are also welcome. All armor can be made to reproduction specs and of lighter gauges of steel than SCA regulation armor. Call for pricing and delivery estimates.
So take a look around, browse the catalogue, peruse the links, and order if you see something you like. If you are interested in something that doesn't seem to be listed in the catalog, please contact the Armory and custom arrangements can be made.
Ask us about our film and television work!